I spent far too much time today on this image…….
But first
What are the key elements required for a transformation of teaching and learning through the use of technology?  There are obviously many reasonable ways to look at this.  From what position do you view this issue?  Are you a teacher, instructional coach, building principal, technology facilitator, director of technology, chief administrative officer of some flavor, superintendent, parent, or student?  For you, this issue will likely run through the filter of your current position.
It will also run through the filter of your experience.  Are you an eighteen year old student who lives a life that is highly digitally integrated, or are you a teacher of 20 years or more who is just now trying to become familiar with the Internet as it relates to teaching and learning?  Are you a superintendent or head of school who is beginning to open to the importance of a smart approach to technology integration, or are you a technology facilitator who has been a digital evangelist for the past five to ten years?
Those filters should all be applied to the problem of how to retool schools along the lines of technological transformation.  (Though I didn't think it worked in the title of this post, you will see below that I would rather use the term transformation as opposed to integration.)  At this point, the vast majority of school systems are behind the curve in this area.  Being this far behind might just have one distinct advantage.  If there is no way to see any of the individual trees in a forest, you are likely going to be forced to start your mission with a whole-forest view to begin with.  This is not a bad thing.  It allows you to realize two important things:
1) You don't need a flashlight.  It's not that dark in there anymore.  Trust that there are others who have proceeded down this path before you, and they have learned many important lessons.  Collaborate.  Learn from their successes and failures.  Do not go it alone.  Resist the temptation to slap a digital device in the hands of each student and call it success.  Have a plan.

2) Rarely do we get to make decisions with the clarity that a little distance provides.  Take your time (but hurry).  Ask yourself: what can we do with these new tools available today that we couldn't do before?  If we could remake our curriculum any way we wanted, how would we do it?  Think transformation of the way teaching and learning is done in your district, as opposed to integration into it as it exists.
Allow me to run this challenge through my own filter for the next several paragraphs.  For more on my filter for these ideas, consult the About page.  Also-  I certainly do not profess to know all of the answers.  I am currently sitting on top of a nice little foothill of educational technology leadership…  and staring up at some pretty massive peaks ahead.  Allow me to talk about a few things that make these peaks seem climbable from where I stand.
It is my belief that all schools (and/or school systems) need the following four pillars below any technology "integration" effort…
An Innovation engine
All systems need what I will call an "innovation engine."  Whatever the system, whatever the setup, schools and school systems need pockets of sponsored innovation.  Without some folks directly charged with instructional innovation with digital tools, we will always be just trying to fit technology into what we do on a day to day basis.  It is far better to build innovation directly into the system, and to foster it purposefully.  I know this may seem somewhat fringe in the world of public education, but it can't afford to be much longer.
"At enlightened, forward-thinking companies, managers understand the connection between learning, innovation, and higher productivity — in fact, employees at these companies may even be encouraged to spend time learning and experimenting with new technologies."

~Joe McKendrick, FASTforward
So who will drive this engine of innovation in your school?  Will this be a technology facilitator?  Will it be a technology coach?  Perhaps an instructional coach.  An ad-hoc committee of teachers?  A requirement of your leadership team or department heads?  If you are thinking of this from a district perspective, where does this responsibility land?  Will you just hope for it, or will you truly sponsor innovation in new approaches to teaching and learning afforded by digital technologies?
Administrative support
An innovative technology leader will be of little use beyond their immediate world without direct, purposeful and inspired administrative support.  Administrators:  join forces with your innovation team.  Learn what they learn.  Push them to new heights.  Allow them to bring innovative approaches to the classrooms and teachers of your school.  Support your teachers every step of the way as they slowly transform the classroom environments they create toward new and better approaches to learning…
…and then hold them to it. Hold staff accountable for bringing their skills up to the present realities of the 21st Century.  We've been living passively in this century for almost ten years now.  It is time for all of us to sit up and take a direct and active role in the changes happening within the learning profession.  Without strong administrative support, advocacy, and supervision, no real and lasting changes of this magnitude are possible.  Guidelines for such leadership aren't exactly guesswork.  Grab a copy of the NETS and familiarize yourself with these standards today if you have yet to.  They come in three fine flavors:  for students, teachers and administrators.
Unfiltered ubiquitous access
So now you have innovation closely coupled with administrative support.  With those two things, you can get a pretty immediate return for your buck, provided one more terribly important thing:  that you don't filter the very usefulness out of the web. A school can have instructional innovation and local administrative support and still fail with regard to technology integration.  How do you kill innovation quickly?  Tie it down.  Even today, many schools filter all of the good, interactive raw materials right out of the web, just when it is becoming increasingly important.  Figure it out.  Ask a school who only lightly filters.  Ask.  Don't assume there isn't another way.
Our school system does currently block Facebook and MySpace.  However, our general approach is to put the filters in place required by law, (keeping out the really creepy things) and then keep the real Internet open for education.  Yes, that means we have open access to YouTube, Flickr, UStream, Ning, Twitter, Blogs, Wikis, etc…  We have our hands on far too much fuel for innovation to even worry about looking at Facebook and MySpace at this moment.  They are where our students already are.  But for now, we are luckier than 95% of school districts I encounter with regard to open access.  This fact has allowed us to move quickly toward figuring out the advantages and disadvantages of these powerful new tools in an educational setting.
Oh, and ubiquity.  Access to these tools must be easy and everywhere.  Soon after access is all around you, it doesn't even feel like "technology," it just feels like the way things are done.  This is a good thing, for when technology becomes invisible, we can finally focus on the value added from new uses of these tools.  The world is moving quickly toward wireless access in all corners.  If your school isn't wireless, then only your students have wireless access.  That's right-  via their phones.  You have a cell phone policy that bans their use in your school?  How is that working out?  You might be surprised.  Many of your students likely are on the raw, unfiltered Internet via the 3G connection of their cellphone more often in the classroom than you care to admit.  Why ignore this,  or worse yet, why punish it?  Embracing might just be the answer.  Some serious thought, study, and stakeholder input should be focused in this direction.
If your school isn't at a 1:1 ratio of students to laptop computers… and the students don't take them home with them night by night, all year long… then you don't yet have an ideal learning environment for 2009 by most accounts.  Until then, however, there are other ways until that time to assure ubiquitous access.  Our school currently employs laptop carts at a ratio of better than 2.5 students to one computer.  60 of these machines will also be available for checkout from our Media Center in the fall.  Our Media Center/Library will also be open well beyond school hours.  It isn't perfect, but it is allowing us to move ahead intelligently.  We are moving quickly toward the 1:1 environment that seems inevitable in schools.  Moving in that direction in a smart and purposeful way is the strategy we're employing.
Instructional model
So now you have innovation on the ground level, administrative support, and unfiltered access.  Be proud.  If you can honestly say this characterizes your school or school system, then you are in a very small but fortunate minority.  You work with smart, visionary people who know how to plan and have been doing so for some time now.  If your lone goal is to have students, teachers and administrators all gleefully pushing buttons and gazing at computer screens…  then your work here is done.  Congratulations.  However, if what you were wanting out of this nationwide technology push was something a bit more…  substantial, then you had better finish reading.
The fourth pillar of "instructional model" is more than a quick soundbyte allows.  I see three levels of this notion with increasing value as follows:  1) You have thought about and encouraged good instructional practices in your building/district.  2) You have a well-articulated plan for effective instructional practice that is building or districtwide.  3)  You have a true learner-centered instructional model in place in grades K-12 that credits the constructivist nature of human learning.
I am fortunate to say that though our district has awakened late to the call of real and purposeful transformation via educational technology, the toughest of our four pillars has already been built.  The final pillar of a student-centered model for instruction that is carefully stated, professionally-developed, supported, and supervised…  is just freshly in place.  This is not so say that fluency in adopting this philosophy of approach is yet there, but the crucial first step is complete.
As I stated earlier, we are looking up at some pretty tall challenges ahead of us.  Locally, we have unfiltered access to all of the content and interactivity the web affords.  We have pedagogical experts in district leadership positions who have put in place an ideal instructional model for the future.  We have a quickly multiplying group of administrators at both the district and building levels who are responding to the call of the digital world, and we are making plans to foster innovation and creativity in our classrooms.
I feel like I am at the foot of a mountain that a handful of good people have climbed…  20,000 feet below the summit, yet armed with the best climbing gear and support I can get my hands on.  The immediate future should be interesting indeed.
Where are you?
So where does all of this leave you?  How many of these pillars have been already constructed around you?  What have you done to help in that construction?  What do you see as the greatest challenges in this mission?  What can I or others do to help?  Are there other pillars that you believe I have missed here?
This post was initially intended to be a part of "Leadership Day 2009" as conceived by Scott McLeod.  I am posting it at 1:30am on July 13th instead of on July 12th.  This is not to shabby considering my two baby girls thought that since it is technically summer here…  it should feel like it today.
***This post ended up being nominated for "Most Influential Blog Post" at the 2009 Edublogs Awards.  Nifty nomination.  Thanks much: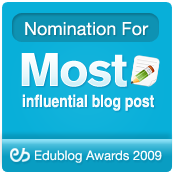 Artwork
*I created the
Four Pillars
image above from the original raw image: "
OSU Columns 1
" by Steve Betts (
Zagrev
) on Flickr. *
Catracas
by
[ cas ]
on Flickr *
Erector Set
by
vgm8383
on Flickr *
wwwwwwwwwwwwwww access
by
squacco
on Flickr *
Nice Helvetica.
by
William Couch
on Flickr *
I don't understand the question…
by
flynnkc
on Flickr .