Good conversations
This rather dull snapshot was taken with my phone at the recent NECC 2009 conference in Washington, DC.  Funny.  Sometimes it's the non-conference things that really push my thinking forward.  EduBloggerCon was one of those, "sit around with smart folks and discuss and debate self-selected topics of interest in education" kind of days.  What, you don't have those every day?  Ok, I'll admit it- sadly neither do I.  One of the sessions in particular, led by Jonathan Becker was entitled: "Where School Reform Meets Madonna:  Can public schools fundamentally reinvent themselves?"  The rule in this one was that if a "tech tool" was even mentioned that the violator would have to stand on the table and sing.  EduBloggerCon is certainly an "unconference" about more than edtech tools.  Good conversations do more than stimulate your brain during the immediate time in which they are occurring.  Good conversations are those that change the way you see the world in some small way from that point on.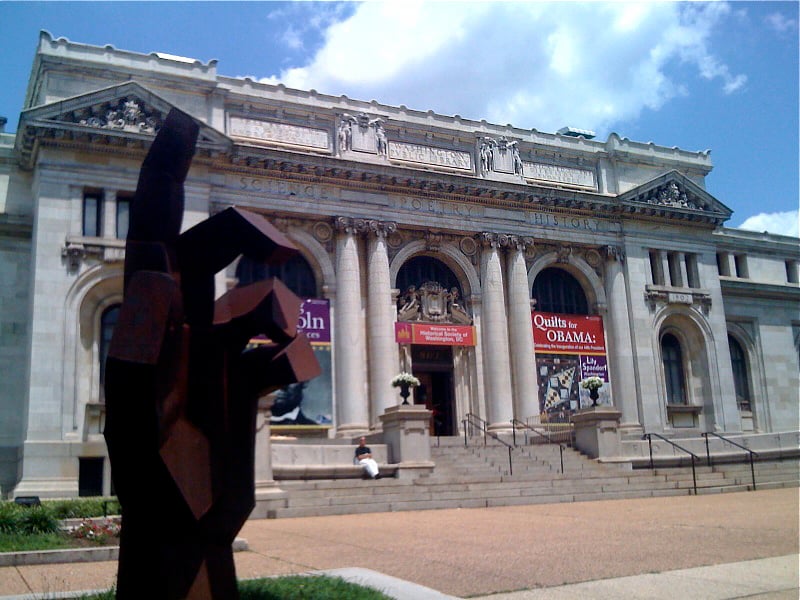 The building above is found in Mt. Vernon Square and has an interesting history.  A much better close-up view from Wikimedia shows that this was one of Carnegie's libraries.  The building was also recently a City Museum and still serves the Historical Society of Washington, DC.
While walking the city with Jeanette and Luke (Principal and Asst. Principal at BHS) during lunch at EduBloggerCon, we ran across this building.  Initially, I was interested in the architecture.  However, upon closer inspection I became much more interested in the three bold words embedded into the marble front of the building:
SCIENCE  :  POETRY  :  HISTORY
These three words, especially appearing below the phrase: "DEDICATED TO THE DIFFUSION OF KNOWLEDGE" were enough to haunt me the next couple of days.  By the way, I had probably better let you know that if you came to this post looking for answers… prepare for a 10:1 question vs. answer ratio from this point.  Sorry about that.
A light word study
Let's talk about those three little words.  Do you have thoughts on this triplet as it was laid out so many years ago?  Truly any three words could have been chosen, yet these are the three that were cut into rock.  For one, I am a pretty big fan of all three of those words.  If you dig through the "poetry" tag here on the blog, you'll certainly find a thing or two that relates over the past year.  Science is the obvious one.  I have been a science teacher since 1992.  Further… for me, history so often provides not only context to the world in which we live, but also connections in and amongst all fields of study.
But I live out my days in an American high school.  Where are the other two great core areas of study?  Where lies Communication Arts, or English, or Language Arts, or…?  Where do we fit Mathematics?  Perhaps the folks who laid out this building saw those as modes of communicating the ideas of science and history.  And poetry?  Perhaps this is the art that takes human communication to creative and innovative heights.
Step outside a moment

Imagine a school where the base subjects are those three: science, poetry, and history.  What would that look like?  Now of course I'm not suggesting we look away from all of the other myriad courses in our world such as practical arts, physical education, etc.  My friend and Principal, Jeanette Westfall, would be quick to remind anyone discounting the importance of the "non-core" subjects, that these courses (and their teachers) represent about 60% of our school today.  Anyone pushing this part of high school life aside would be someone with a rather narrow view of the American high school scene of 2009.
But instead of seeing a focus on science, history, and poetry as narrow…  what if we saw it as something much larger?  What if we found a way to teach all of the subjects we care about today within this framework?  Could that be done?  What if we dissolved our hallowed curricular walls and found a way to deliver all of those wonderful bits of learning through very broad lenses such as these three?
I can see a million problems.  Where does engineering fit?  Engineering isn't really science.  It is most usually an outgrowth of science.  Engineering is science applied to life.  However, aren't the best examples of engineering a marriage of art and science?  There are others of course.  I welcome the discussion following this post.  Writing online is great like that, right?
Insurmountable?

Perhaps the largest thorn in the side of such an experimental approach is our compartmentalized teacher certification system.  Not only that, but with most of us as products of such a linear, territorial system- could we even create a small number of schools that could do this at a high level?  I understand why this is different in secondary vs. the elementary world.  The content knowledge required in the higher grades in 2009 is daunting for sure.  I get it that most folks couldn't deliver calculus.  Most of us couldn't prepare teenagers for college-level physics or a journalism program either.  And yet, what percent of your student body did I just include by mentioning those two courses?  More importantly, perhaps restructuring schools toward a more integrated nature seems more daunting to the "closed four walls" of the typical classroom.  Perhaps those who have opened up the walls of their classroom to colleagues near and far can more easily imagine a new and innovative structure for schools.
Of course this couldn't really fly in a public school today, could it?  But then again, how is what are are doing right now working for us?  Many universities have "honors" programs within the normal school.  These programs are often about collaboration and integration of subject matter to create a more relevant and rigorous environment.  The same goes for gifted ed classes.  It seems that we continue to create opportunities for both our most talented kids as well as those who display "buy-in" to the system of schooling as it is today.  Of course I think this is a great thing.  But, what about the massive chunk of the teenage populace who see school as not immediately relevant to their lives?  What needs to happen for us to imagine a learning environment that is chunked up in some way different than we have already tried?  The huge numbers of disaffected or otherwise uninterested teens can't wait much longer.  I wonder if their vision could be any more comprehensive.
As is often the case…  far more questions than answers here today.  Once again, I'm appreciative for the ability to think aloud in a loose forum full of smart and enthusiastic people.  What about those three overarching "subjects" mentioned above?  Are there three you'd propose alternatively?  Hopefully an idea or two will be left stirring in your head.  Feel free to share below if so.
Artwork
*science:poetry:history via iPhone by me *
altered playing card – inspiration – davinci
by
Blazing Moon
on Flickr *
23, 24
by
Rob Shenk
on Flickr *
3d glasses
by
dryxe
on Flickr .