Engagement
A friend gives you free tickets to an upcoming concert.  Although the group is fairly popular, you are not familiar with the artist's body of work.  Assuming you elect to go, what do you do next?
Between now and the day of the concert, here's betting that your old pal Google comes into play at some point.
What is the artist's body of work?  For me, iTunes previews would quickly come into the picture.  I might even scan the reviews.  Then perhaps a dive into YouTube in a quest to actually see the band in action.  Maybe even an interview with the lead singer?  Does the band have a website?  What else have they done?  What does the bio tell me about where they are from and perhaps why they do what they do?
This approach works.  We know it does.  We've done it ourselves a thousand times before in similar situations.
Building schema
Here-  you are building schema.  It is what you do.  In this particular scenario…  it is what our students do as well.  Schema.  In terms of learning theory, the word was first used by Piaget as early as 1926.  Apparently, R.C. Anderson, a respected educational psychologist, expanded these notions into a more solid theory.
My wife and I just recently scored tickets to see Mason Jennings at a small club in Lawrence, Kansas.  I have listened to his music for years.  Erin however, has only known him from his appearance in the many playlists and mixes heard in the car and throughout the house.  His latest release wholeheartedly scored a new fan in my wife.  She had heard my favorite tracks many times over, but she wasn't really privy to his larger body of work.
So what did she do?  Much as you might expect, she trolled the web finding as much as she could.  Given such a rich opportunity to experience an artist doing what they do best… live and in person…  she was going to make the most of it.  It was while watching these actions unfold that it hit me how similar this very behavior is to one I strive to honor as a classroom teacher.
We're more attuned to a musical performance when we can identify with the art as it is unfolding.  This is not "rocket science," folks.  I doubt anyone reading this far believes so.  Therefore, a quick transfer into the classroom should be a fairly easy proposition, right?
So what is it then that prevents us from a similar approach to concepts within our core content areas?  Why would we not make an attempt to harness this simple passion for constructing knowledge in other areas?  What do we know about the flow of learning?
Learner-based learning
"But I don't get to take my kids to something as cool as a concert."  I get it.  I understand that external holdup.  However, aren't we the content experts our community pays to deliver lifelong learning for our children?  Can we not impart at least a sense of excitement about some future learning goal in order to generate student engagement toward that end?  Here's me thinking that if we are to swallow the goals of problem (or better "challenge-based") learning as our instructional model… we had first better devour the concept of establishing an environment that honors the learner first and foremost.
A purely constructivist learning environment is one that we are not remotely able to deliver given the rigid accountability brought on by NCLB in the last ten years.  Design, yes…  deliver, no.  And yet, that does not in any way stop us from building in the essential constructs of student-centered pedagogy.  We simply have to set students up to win when it comes to grasping the core concepts of our curriculum.
Aquatic example
A few weeks ago, I knew that I would be taking my Dual-Credit Biology students to the MWSU campus to conduct a couple of field studies concerning species diversity.  One of these prescribed lab events required that students sample organism populations within a gorgeous little freshwater pond found on site.
If I hadn't started with what students know…  their current schema…  I would have driven them down a path that many were quite unfamiliar with.  Who would guess that Midwestern students weren't intimately acquainted with the life found in a freshwater pond?  I wouldn't exactly call my school an "urban" school.  And yet, three or four out of our group had almost zero familiarity with pond life at all.  Yes, these students had never been to a pond.  Sure, I could have asked a question to elicit this data.  However, this realization would do little good toward building student knowledge for each of my twenty students individually.  Diversity, schmercity.  That knowledge would help me, not we.
One of the main uses of our online network is rich reflection.  This reflection is found throughout all phases of learning from engagement to evaluation.  In this case, we did what we normally do.  Prior to embarking on a well-worn lab design…  we explored what we already knew about ponds.  This was done first on real tables with real chart paper, real markers, and real student conversation.  Our work then proceeded to the digital realm to find anything and everything we could about the inhabitants and structures of freshwater pond ecosystems.  Our biology textbook can only deliver generalities.  Students gathered this information and presented it to one another and the world on a forum thread at Principles of Biology.
Students with a rich schema in this area were allowed to demonstrate that reality as well as search for more in-depth knowledge.  Students for whom the pond was a mystery…  and likely wrapped in misconception…  were also allowed to explore and share.  The difference is found within the reflections posted at the site.  In this arena, at this point, student knowledge isn't judged for its breadth and depth.  Instead, it is valued for its inherent honesty and the deep reflections that follow.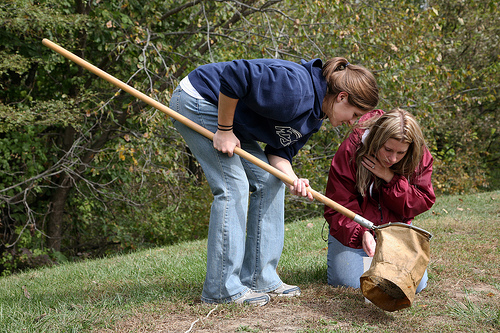 After the hands-on field study at the pond, students were invited to return to the site and post direct replies to their previous posts…  highlighting the learning that took place and the knowledge they had constructed throughout the process.  What we end up with is a digital record of these experiences unfolded transparently in digital space for all to see.  And they do see.  Our site analytics show a flurry of activity surrounding this post as well as others.  Principles of Biology is full of similar cycles surrounding many topics embedded within our curriculum.
As students and teacher, we know we enter any given concept at different places.  We also know that through loosely-structured (but structured nonetheless) classroom experiences we will all push our knowledge far beyond what it was prior to engaging in the topic.  We also know that this will be done not only for ourselves, but for those who live vicariously through us via the web.
Or, I could line up the curriculum goals and objectives and march forward to hit each one in step whether or not the students "get there" with the rest of us or not.  They should have studied harder.  They should have paid attention as these ideas were skillfully presented in turn…  right?
So really…  when we wonder why the next course-level expectation or state-level curriculum objective doesn't immediately resonate with glee…  take a step back.  Marching forward down the lineup of objectives does little for deep student learning if we are the ones doing the driving.  Instead, let your students take the wheel.  Step aside.  Plug in enough structure to encourage constructive discourse and let students learn.  Learn with them.  Seriously.  You already know it all?  Don't assume anything.  Dive in yourself.  Learn with them.  Assess your learning every step of the way.  Ask questions.  Push students to ask even more.  Build schema to the point that you can all communicate as you move forward as learners.
Artwork
*
schema
by
jeloid (away)
on Flickr *
Mason Jennings
by
whereisyourmind
on Flickr *
pond shots
… 
me
. .