According to NOAA, over half of the population of the United States lives within 50 miles of the coastline.  This trend holds up over the vast majority of the world, and many countries in East Asia show an even greater build up along coastlines.  Humans have, and continue to rely heavily on ocean resources for their livelihood.  The continued concentration of human life in these areas creates great stress on marine ecosystems.  This fact alone is enough to suggest imminent and increased stress on the natural workings of the world ocean.  However, what about the other ~50%?
If you live in, oh…  Saint Joseph, Missouri… what effect can you possibly have on ocean resources?  For folks who have lived out their lives from the center of a continent, issues such as this tend to pass by without even a glance.  And yet, certain actions we take on a regular basis directly affect marine ecosystems hundreds of miles away.
No ocean in Missouri
As an educator who hails from dry land in relatively rocky Missouri…  I have long struggled to help these concepts move beyond the abstract and into the concrete lives of my students.  From the start, the Marine Biology program in my district was built around a rich field study set truly in the middle of nowhere on the Andros reef in the Bahamas…  aboard sailboats for a week in April.  If you haven't seen them, sets from our most recent two field studies in 2009, and 2008 can be found on my Flickr page.  From the images alone, I think you'll instantly see the educational value of this experience.
From the start, leaning my curriculum against such a rich experience has done wonders for establishing relevance in this course.  However, in my opinion, there is still value in being able to understand our effects on ocean resources…  even when we are hundreds of miles from water.  Of course, there are many ways in which we on dry land are still intimately tied to the ocean.  However, over the years it seems the direct connection from plate to mouth is the one that establishes a real connection with my students.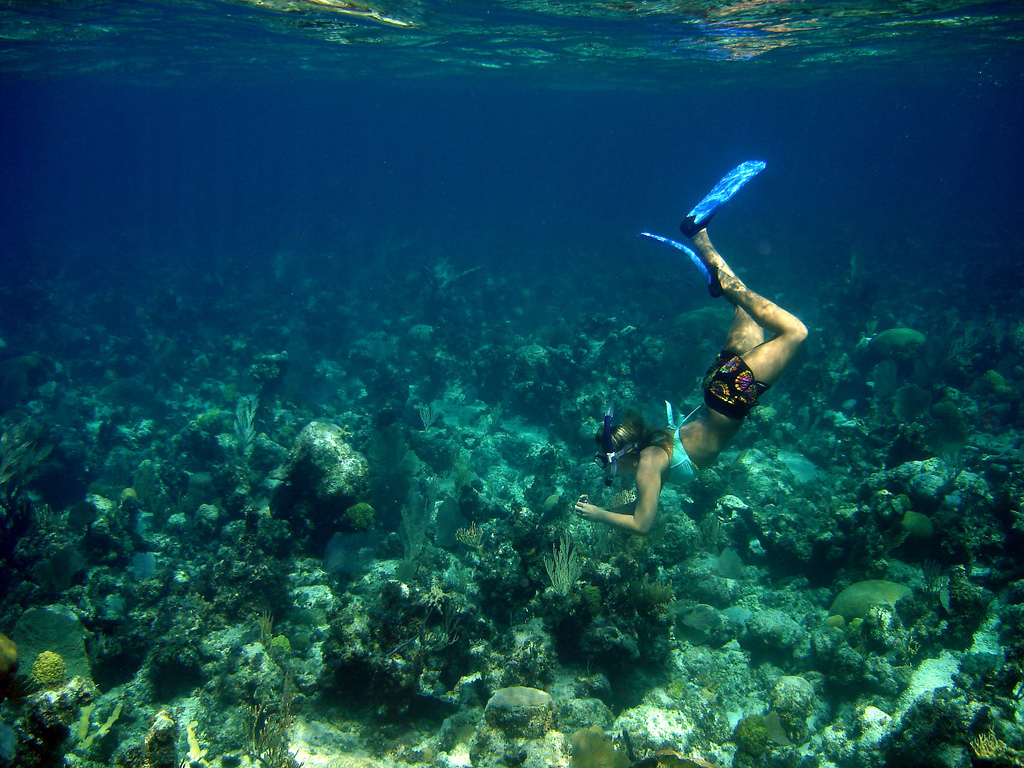 Challenge-based learning
I've written before about projects concerning seafood resources.  Working up to last year, these challenges have moved from the classroom alone toward true social action.  It seems pretty easy for students to buy into the idea that teaching not only helps one to learn something, but it can also affect change in the world.  Working up to last year's challenge based on ocean resources, students were encouraged to take on their own project.  There were given the challenge of being creatively independent in reaching a wide audience of local folk with information related to smart uses of seafood resources.
While certain successes were had with this approach, a rather novel set of occurrences this year has pulled us back together as a whole class to take up this challenge in our community.
The End of The Line
"Imagine a world without fish" is the tagline that follows the title of this new full-length film.  The End of The Line made its debut at the Sundance Film Festival in January.  The film had its North American premiere on July 19, 2009, and continues to play in theaters, communities, and campuses across North America.  Screenings this month are scheduled in cities like Anchorage, Alaska, and Kamuela, Hawaii.  The film shows most often on college campuses and at film festivals.  In Saint Joseph…  far from the sea…  it will play free to the public in the Benton High School auditorium.  Here's betting that this public screening of the film will be the only one for hundreds of miles.
On October 26th, from 6 to 9pm, Benton High will be a hub of discussion about ocean resources, especially smart and sustainable attitudes toward our ocean.  Fr0m 6 to 7pm, a gallery walk will take place in the hallway leading to the theater.  Marine Biology students who have been studying these issues will present displays and talk with guests informally about topics that bring these issues directly to the "table-level" in our own community.  Our guests will also leave with practical tools in hand to make smart decisions about seafood.  Pamphlets, pocket guides, bumper stickers will serve to remind well after the film ends.  The End of The Line has a runtime of 82 minutes and will begin at 7pm.  After the film, students will again be available to discuss individual topics in the gallery way until 9pm.  Concessions will be available.  Hey, it's a movie.  Movies require popcorn, right?
The screening of the film is sponsored by the Saint Joseph Marine Institute (Marine Biology program) and the Saint Joseph School District.  Thanks to district officials who have long sponsored innovation in the classroom, this community event will be offered free of charge.  Thanks, Dr. Dial.  My students thank you, as will any members of our community who are touched by this experience.
To help spread the word about this free community event, feel free to download a copy of the full-size poster here and display it in your school or place of business.