Find
The following video was recently posted by a colleague on a nascent district network that will go "public" in a few short weeks.  In what I see as an emerging "best practice" in setting up and facilitating online networks, we are busy adding rich instructional content prior to inviting members.   In other words, making it look -even upon first glance- as if "someone is home."  Far too many folks try to set up a network on the Ning platform only to have it flail about in cyberspace because it doesn't immediately grab people as a place where they can imagine investing a little of their time.  Take five minutes to watch the video before reading further…
How great is that?  In Angie's (a fellow instructional coach) description immediately below the video, she said: "A great video with amazingly appropriate music to show goal setting and teamwork to achieve a goal." I certainly do see those ideas reflected within the video.  However, I clicked to view the video full screen before reading, and my personal reaction was somewhat different.
Think
To me, even more than goal setting and teamwork… this video speaks to the idea of honoring a constructivist approach to learning… and the gentle scaffolding required to get students to the ultimate goal within such a framework.
It seems that I chose to see the video not through the interactions with "momma squirrel" but instead through those that happened between the baby squirrel and the human observer. To me, the human (with the bigfat human brain) was the person in that situation who clearly knew how to achieve the objective.  You could easily argue that the momma squirrel didn't get it.  Although, we truly have no idea what the ultimate goal was.  Perhaps going a different route, one that avoided the wall altogether, was not an option.  Though perhaps it was.  This we'll never know.
Like a teacher honoring the fact that all true learning takes place within the brain of the learner… the observer(s) didn't intervene at first.  They allowed the most powerful personal learning (in the brain of the baby squirrel) to take place first. They gave credit to the struggle that is inherent in accomplishing anything of real and lasting worth. They allowed small failures themselves to "teach."
However, they ultimately they chose a strategy in which to intervene in a "least invasive" way… and then carried it out.  This initial strategy did not prove immediately successful for the learner.  The baby squirrel simply didn't succeed after the "help" was applied.  The observers then took a step back, rethought the situation, likely looked around for other pertinent resources, and then applied another strategy to facilitate the baby squirrel's accomplishment.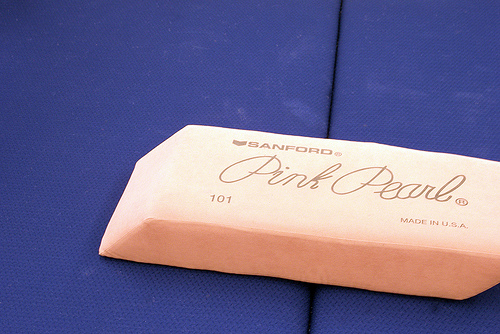 This series of calculated interventions is a good metaphor for what I see as one best case scenario for teaching and learning. Of course with today's tricky world, and the complex sphere of standardized assessment we live within… allowing this full continuum of experience to play out with every learning objective is just not feasible. Yet, if we are truly focused on constructivism as a "best case scenario" for learning, then we will all make room for that very thing within our classrooms.  We can't exist in a purely constructivist world today.  However, this is not an "out" for studying and practicing this approach to learning.  It is merely something to consider as you map out the classroom environment for you and your students as learners.
Once a teacher gives credit to the power of this approach to learning… they then begin to see its potential in more and more places. I think this is the point where we become sharp about when to allow this type of learning to run its course and when we have to "cut and run" to nail down the less "essential" objectives in order to allow the time for everything we want (and are responsible to) for our children.
Conclude
So yeah, in short… I love the video as a reflection and teaching tool. In fact, I wrote 75% of this blog post in the comments section of that particular video on our network.  I could link to my comment there, but then I'd have to break my rule of going public with a network before it is already a microcosm of what I want it to eventually become.  You wouldn't want me to hedge on my own philosophy for this would you?
Ask
So what do you think?  Did you see something different?  What metaphors did you see in the video?  How might you use this little clip as a teaching tool?
Artwork
Pink Pearl
by
Heather Beltz Ingram
on Flickr .