The goal in baseball is to just get by. Finishing the ninth inning with one more run than your opponent lands you with a win, and in the right game- a title. The goal in teaching should be quite different.*
Swing for the fences
Teach like you have something to prove. Because, in fact, you do. When a new year begins, you have a ton to prove to your students- and in a very short time. If inside the four walls of your room on that first week -it feels like a classroom– then you will have your work cut out for you even more than you would have otherwise.
Ask Malcolm Gladwell (author of Blink) how quickly your students will size you up on that first day.
The only thing you have that, say -an interviewee for a job doesn't- is about 179 more days with your captive audience to make amends. New teachers should hear loud and clear that with integrity and persistence you really can make up for a rocky start over time. In my opinion, the "first day" gurus such as Harry Wong, overlook this fact.
Rookie season
A teacher who has never stood in front of a group of high school students can be pretty intimidated with everything that must go off without a hitch on those first days. I have seen this several times during these last three years as an instructional coach. I mean seriously… look at this. You are pulling down a whopping thirty grand for mastering that in addition to everything else NCLB throws your way. Even the word mastering can be frustrating here. As a teacher, you won't make a penny more or less whether you nail it, or fail it. It is one of those sad realities of the profession. Perhaps Mr. Duncan will have a thing or two to say about that. One thing we do know for sure is that he never had to spend a day worrying about that first week. For all of his extensive experience administrating schools, he's never actually been a classroom teacher.
So how do you do just that –swing for the fences– in a classroom? Step one: care. Care about all of it, and care about it deeply. If you try to pull down something in that first week that you don't deeply care about, then you will derail the train at the station. Your students don't care so much that you are deeply knowledgeable about science yourself. They also do not care that you may be steeped in all of the latest instructional strategies… though this will certainly help. What they really care about is whether or not you do. I mean, I'm not a big fan of street mimes, but I'm also not about to walk by someone that committed without a kind smile lighting up my face. Bottom line- if you don't care deeply about your mission, and it is a noble one, you might want to think about trying to get out of that contract before it is too late. Yes, I'm serious.
Is it worth swinging at?
Since you're still reading, you can likely pass muster on step one. Step two is far easier. Step two is to identify something deep to begin with. Pick something that might typically be thought of as culminating. Don't lay out all of the vector-physics wisdom involved with every step of arm wrestling. Beat a kid at arm wrestling… or lose… it matters little here. What does matter is that your students get a glimpse of what the end looks like. What are the culminating processes, skills, and concepts you want your kids to leave your room with in May? Pick one. Start with that. The natural world is an interesting, puzzling, or beautiful thing to all humans at some level. Where is the beauty in your subject? Where is the mystery? Where is the debate? Don't wait until Spring to drop the really good stuff on a bunch of chronically bored kids. Don't do that.
I know, I know… "but what about the pacing guide?" The pacing guide is a very well-intentioned piece of accountability hardware. I get it. It is all about making sure a teacher doesn't stay with the "leaf unit" -insert other easy favorite here- all semester long. It is also about making a daunting management task a bit more manageable for a school's administrators. I'd personally rather see a school hire a VP in charge of curriculum & instruction than to lay out anal pacing guides that make teachers feel unable to innovate with sequencing, alternate approaches, etc. I'm starting to believe that no amount of well-intentioned talk about how the pacing guide isn't your boss will change that. Teachers are generally people who will do as they are asked. If it is in writing, hey- it's in writing. If you had a knowledgeable VP in charge of C&I in a building, they could have real bi-directional conversations with teachers on a very regular basis about how they are going about the business of delivering the curriculum to students. This would have to be an administrator freed from the overwhelming glut of management of discipline duties a VP job normally comes with. Of course, you could argue that a strategy like this could just be trading one evil for another potential evil, and you'd probably be right in many cases.
Rethink your role
OK, back to the plan. Simply show kids where you are going. If you introduce them to atomic structure yet again to begin the year, you are asking for it. I'm not saying not to do it… just do it next week. Take week one to show them why any of those gruesome details might matter at a later date. Allow me to switch the metaphor. Essentially speaking, if your classroom were a restaurant, you might think of it as assuming the role of host or maitre d' as opposed to the chef. Control the atmosphere. Greet them at the door, lead them to their table, introduce the menu, highlight the really good stuff, even bring the ingredients to the table… but then leave the cooking to them. I didn't say walk away. Stay. Help out when you're really needed. Hey- you've cooked a steak once or twice before, they haven't. But let it be their steak. Don't cook it for them. Small variations make a meal interesting, but a truly burned steak is a shame. Right?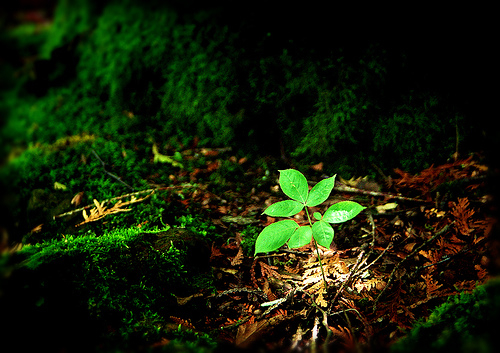 Biology: the study of life
"What is life?" -sounds easy enough, doesn't it? It is a typical question-led topic found in the introductory chapter of almost any Biology text. Tons of folks probably lead off with some analytic version of this lesson already. This year, like many in the past eighteen, I kicked things off in Principles of Biology by stirring up a bit of classroom discourse concerning a definition of "life." No- I'm not talking about the one where we review a litany of characteristics like growth, metabolism, ability to reproduce, etc. Like most things, those fall dead flat without a rich context. If you're just there for the diploma, you don't care what a cell is or isn't at this point. I like to ask that very same question from a more comprehensive vantage point that has relevance to all students by the time they are sitting in my class as a junior or senior.
I like to start this period with a short reading directly from "One Minute Readings: Issues in Science, Technology, and Society" by Richard Brinckerhoff. This is one of the few inspiring resources I have obtained via a textbook company in the past eighteen years. Check it out: at the time of writing this little essay, you can even score a copy for 37 cents. What are you waiting for? Check for the sample reading I have at Scribd. I wouldn't normally re-type this much of a work like this, but since it is currently out of print and out of stock (new) most places, perhaps this will drum a small bit of interest. This book has 80 readings similar to that one. All were very current in 1992. Of course now you can only use about 40% of them straight-up. But really, you should use the others as inspiration to find your own sources and write your own questions.
The Emeril report
Here's what I did this time around. I passed out the attached sheet while taking roll with explicit instructions for a silent, solo read. After reading, I asked my students to scribble their current thoughts onto a scrap of paper -scribbles that no one else would see. While trolling through the students seated at tables, (want a visual of the space?) I waited for a good moment to stop them for the next step. Now let me say that if your words, as well as your non-verbals, have done an adequate job of making students feel like they can speak up, then look out. This one can be amazing. Let me also say this… if you really are 22, and feel that you aren't ready to facilitate a large group discussion that can get spirited from time to time, then might be something to observe the first time.
That being said drag this one out if you are up for it. As long as you don't see yourself (or anyone else in the classroom) as having the "answer" to complex issues such as this, you are probably fine as long as you require people to simply be nice to one another. I have honestly had not a single issue with this lesson that transpired out of the classroom in any negative way. On the other hand, I have heard tons of thank you's over the years for "allowing us to discuss such real things," or for "treating us like what we say matters," etc. Just stay on top of things with a gentle hand, and I think you'll like the results of this one.
I usually end up reading the entire text to the class myself, aloud, as an expert reader. Of course, with this distilled little piece of text, you will end up stopping every other line and asking for input, asking for someone who can speak to the opposite viewpoint, and largely allowing the discussion to bend and twist to the needs of your kids. I also tend to follow this wonderful little quote that resides in my "stickies" file on the Mac:
"It should be the chief aim of a university professor to exhibit himself in his own true character — that is, as an ignorant man thinking, actively utilizing his small share of knowledge." ~ Alfred North Whitehead
Be a facilitator, not an authority figure. That is a good rule of thumb in general. It makes you a real authority when you choose to actually play that role. But in the context of this lesson, it is honestly required to in order to keep the phone lines quiet in the days after the lesson. In the end, it doesn't matter what you think. It really doesn't. If you take the tack of an authority on any viewpoint in this lesson, you will likely deal with a kickback you don't want.
So this year, I developed what I think is an ideal forum for the final stage of this lesson. I had already set up a classroom learning network on the Ning platform. Before class I created the discussion forum topic for student responses. I wouldn't see them again for two days. So I asked them to visit the site in that time, and post a reflection based on the reading, our discussion, their overall reaction, their reaction to one specific element, the response they didn't feel like verbalizing in class, whatever… their choice. I wanted a forum thread that would not only reflect the discussion of that one class period, but one that would also extend the discussion beyond the classroom. Check it out. I think you'll see that we didn't answer many things, but we sure engaged a few folks in the questions.
You'll have to judge for yourself on how this worked for us. Keep in mind that this was the first online work they had ever done for a high school class… ever. That variable certainly changes the discussion in some interesting ways. I am open to discuss any of the other variables of this class in general, our curriculum, details of the setting, etc. The devil in all classroom adventures is in the details.
Let's be real. I played baseball for years. I know that there are certain situations where squeezing a run in the first inning is appropriate. There are certain educational situations where scoring a small but easy victory early on is preferable as well. However, in my experience, more often than not I tend to step to the plate with any new concept ready swing really hard at least three times. That bravado is even more pronounced at the beginning of the school year. Hey if I strike out in the first, at least they'll know what kind of a team they'll be facing for the next eight innings…
*This post was originally published at
The Synapse
, a new professional development network for life science educators.  I collaborate there with some very inspiring educators.  More on that site later… check it out.    

Artwork thanks:
*"
Schilling
" by
mandolux
on Flickr. *"
Eye
" by
Michele Catania
on Flickr. *"
Rebirth
" by
James Jordan
on Flickr. *"
That's life that what all the people say.
" by
mohammadali
on Flickr. *"
a brand new human
" by
Ben McLeod
on Flickr. *"
unfolding
" by
p a p i l l i o n
on Flickr.