You know you wanna
Before I roll out the details of this little mini-project, allow me to summarize.  This project was the first of many in an attempt to characterize the differences between online writing and more traditional formats.  Students in my Dual-Credit Biology course were divided into two groups upon culmination of a biochemistry unit.  Half of the class wrote a comprehensive unit summary in a traditional format which was turned in directly to the teacher.  The other half of the class composed a summary in an online forum for a much wider audience (Ning network).
Summaries were analyzed for word count, readability and effect on content-based exam scores.  Exam scores and readability were closely aligned.  However, strong differences were noted in average word count.  Students writing in online forums used significantly fewer words to achieve the same overall impact.  Implications of using online forums for future enhancement of student summarization are discussed.  My take?  Writing online is a potentially powerful tool for summarization of course content.
The set-up
A building-wide focus for instructional improvement in my high school this year, has been to launch and maintain an instructional technology integration initiative.  The school year began with a cohort of twenty teachers who were willing to engage in training above and beyond the professional development for all staff.  I began meeting with these teachers in mid-June for three-hour technology training sessions.  The first meeting consisted of a "care and feeding" session for the 15″ MacBook Pros, Olympus digital cameras and iPod nanos the cohort teachers received.  From that session forward, training sessions integrated this hardware, as well as emerging online technologies, with solid instructional best practices for classroom learning.  These twenty teachers have followed a prescription of immersion.  New technological tools were presented alongside potential uses in a classroom setting.  An online social network was set up to facilitate learning between face-to-face meetings.
I teach one course during the regular school day.  Principles of Biology is a course in which students earn 101-level college credit through Missouri Western State University.  This course is populated by students who enjoy learning.  Work conducted by these students formed the basis of comparison in this study.  Our course network is also based on the Ning platform.  Though this network features discussion forums as well as blogs, both are examples of online writing in some form or other. As you will see, in this class, I utilize the forum much more than the blog.  This will certainly have an effect on the results of this project.
The main event

What effects, if any, does a move toward online writing generate? Actually, little has been done to characterize the impact this new "genre" of writing is having on student achievement.  In fact, blogging has been said to be different enough as to warrant a new genre of writing called "connective writing."  As Will Richardson has said:  it is
"…a form that forces those who do it to read carefully and critically, that demands clarity and cogency in its construction, that is done for a wide audience, and that links to the sources of the ideas expressed."
In fact, I mentioned this idea earlier this year in this post on blogging.
How was this done?
This project began at the culmination of a biochemistry and nutrition unit.  Class sessions throughout were widely varied and ranged from cooperative work in small groups, guided webquests, lecture and discussion, and wet-lab investigations.  The final strategy prior to the unit exam was to have students engage in writing a comprehensive summary of their learning throughout the unit.  Students were randomly divided into two groups.  They were then informed that they would be doing one of two types of comprehensive summary.
The only difference between the two groups of students was writing "environment."  The "odd" group was to compose the summary on a word processor, and then print as well as e-mail the final copy directly to the instructor only.  The "even" group was to write their summary online, as a blog post, to our classroom network.  Based on previous work with the online class network, these students knew that their work would be accessible online to virtually anyone.  This group of students knew that they were writing for a potentially wide audience, while the students of the first group were writing for me alone.  Since this class is largely an inquiry-based biology class, data was analyzed by the students themselves.  Students were asked to infer from the data and make conclusions online based on the findings.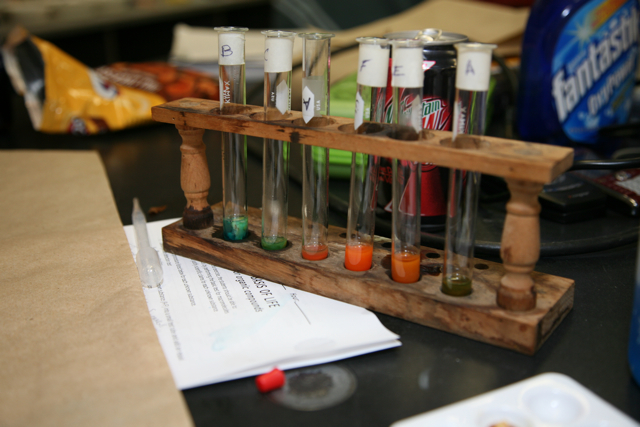 So what happened?
Overall, 20 students participated in the study- out of a total of 20 enrolled in the class.  Each student in the table is listed only by initials in order to preserve anonymity.  (Table 1) Students who constructed a comprehensive summary of nutrition unit via online blog post for a wide and potentially global audience (even group):
(Table 2) Students who constructed comprehensive summary of nutrition unit via MS Word document handed in directly to teacher (odd group):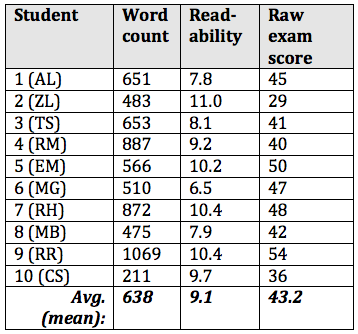 An examination of the data will show average exam scores differed less than one-half of a point across the two groups.  Average readability was also comparable, with the average score differing less than one Flesch-Kincaid grade level.  Easily the largest difference between the two groups was the average number of words used per summary.  Students writing online summaries used an average of 239 words less (399 opposed to 638) than those writing in Microsoft Word for me alone.  Variability in all data seemed fairly low for human studies.  Word counts were tightly clustered around the mean for online writers.  Though the results here seem fairly simple to interpret, there are many factors that must be considered in any analysis and subsequent application.
Jibba-Jabba
In this study, students were instructed to create a comprehensive summary of a unit on biochemistry.  The only instructions given were that the summary should provide an understandable context for the main topics of study, and that any source used should be cited.  It was also suggested to students that the mere creation of this summary would help to prepare for the upcoming exam.  Therefore, the only difference between the groups would truly be whether the summary was composed in an online forum or in a word processor.  Also- the online group knew their summary would gain a potentially global audience while the MS Word group knew that their summary would be read only by me.
Before extrapolating too far, it is important to note that when planning to implement any new teaching strategy, the first consideration should be to do no harm.  With that philosophy in mind, the data in this study immediately suggests that when students worked online, they certainly performed no worse than their counterparts who spent their time offline.
With that in mind, the fact that both groups showed no measurable difference in exam scores, is encouraging.  Therefore, even if an instructor wanted to use online writing as nothing more than a novel approach that might excite a few reluctant learners, they would likely do no harm toward content achievement.  I had initially hypothesized that due to the connective nature of this form of writing, students would better assimilate the content of the unit and show higher exam scores.  When considering this initial study alone, that hypothesis was not supported.  Though it is also important to note that the individual classroom climate and culture could impact these results heavily.  Not only would the feel of a classroom influence these results, it is easy to see how previous instruction could change things to a large degree.
To this point, few significant differences have been shown between the two study groups.  However, when looking at raw word count per summary, things quickly diverge.  It was anticipated that the group engaging in online writing would be stimulated to write a higher volume of words.  Hey-  it's a novel approach.  Writing online is in contrast to a traditional approach where the work is done in isolation from start to finish.  In fact, this is the opposite result seen in the trial.  The group writing online submitted a much lower word count (avg. = 399) than the word processing group (avg. = 638).  This is no small difference and would certainly register as significant on any statistical test.
Why so many fewer words per summary when writing online?  Many of the participants had an idea about this when analyzing the results after the fact.  The following statement by student "RH" typifies a common student response:
"It appeared that the papers had a higher readability and word count, which I kind of expected because I think people tend to write more formally on papers, whereas the blog posts tend to be more opinion and informal writing."
The aspect of formality is something that was not considered to be a factor prior to the study, and yet it makes solid sense.  The type of online writing these students had engaged in prior to this study was largely of a reflective nature.  Our work online has tended to center around written reflections that helped to synthesize classroom sessions.  A more formal approach to blogging has simply not been utilized as of yet with this class.  This is something that could certainly affect the results of this study.  Online writing has been approached in many ways for many different reasons in classrooms across our building this year.  It is very interesting to think about furthering this study to investigate the details of this interaction between instruction and writing.
First phase data is soon due in from three other participating teachers.  In contrast with the class in this study, several of the other participating classes feature some "reluctant" learners.  It will be interesting to see if the results of those trials differ from these in any way.  I would guess that they will.  The analysis of this new data, will certainly provide a jumping off point for the next round of research in our school.
Wheww… finally
To conclude, this brief study demonstrated several things.  For one, the mere act of writing of a comprehensive summary prior to a unit exam seems to be an effective strategy for a class of mature high school students.  Furthermore, the nature of this summary did little to affect scores in this study.  Students writing in online forums showed an average score almost exactly equal to that of students writing in a more traditional (printed) format.
The most signficant result of this study was the analysis of word count between the study groups.  Students writing online submitted significantly more concise summaries with smaller word counts.  The implications of this data are very interesting.  Furthermore, students who wrote less (when writing online) performed equal to those students who wrote many more words.  This could directly point to the power of online writing in helping students to summarize effectively.  This is no small feat considering the difficulty many of today's students tend to have with summarization.  Hotshot ASCD guru, Robert Marzano, makes the case that "summarization has a robust and long history of research," and is one of the "nine most effective instructional strategies a teacher can employ."  These final results will likely have implications for not only future research trials at our high school, but for immediate classroom action in the area of content summary writing.
You?
What do you think about writing online?  You obviously read online.  You likely even write online.  We would love feedback about what goes on in your mind when you write online in different settings.  What happens when you blog?  How are discussion forums different?  What difference does a global audience make- if any?  Weigh in.  What does change when you write online?
Artwork thanks:
*"
How well I could write if I were not here!
" by Esther_G on Flickr. *"
Live Blogging at Woolfcamp
" by Sue Richards on Flickr. *"
WORDS
" by Feuillu on Flickr. *Remainder: 
me
.   😉 .